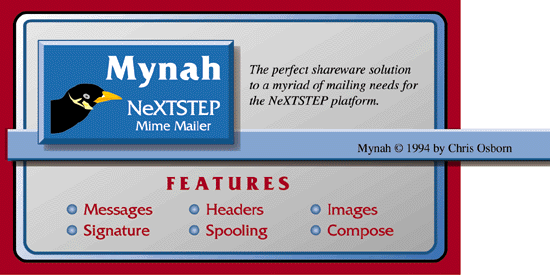 Mynah is a MIME Mailer for the NeXTSTEP platform. It has been designed to be a (mostly) drop in replacement for NeXT's Mail.app. It has several important features which go beyond Mail.app's shortcomings.

Mynah is capable of automatically decoding messages in the following formats:
MIME
NeXTMail
BinHex
UUEncode
NewsGrazer
In a message body, Mynah displays the filename of an attachment below the icon. This makes it easy to locate your file when you drag & drop it into another folder in Workspace.

When dealing with BinHex attachments, Mynah decodes the attachment into AppleDouble format, making the data fork easily available. It also will make the file appear to be a Macintosh file if the filesystem is visible on a Macintosh (via a product like NFS/Share). [rewrite needed]

Mynah also has X-Face support, which will automatically decode and display X-Face headers just like a normal face; uses the same AddressBooks that the Workspace Manager and the Fax panel use; and has the capability to thread mailboxes.

These are just some of Mynah's features. See below for more features.


Additional Features:
Messages:
Filenames are displayed below icons of attched files
Messages can be postponed
Any message from you can be resumed (handy for resending messages)
Date/Time in message list is in YOUR local time zone
Messages marked for deletion are NOT hidden
Space and arrow keys page up/down message text
Icon for indicating a message has been answered
Signature:
Reformat/Quote/Insert Signature is built in
Reformat/Quote/Insert Signature provided as Services to other applications
Built in signature editor
Headers:
Full headers can be displayed
Headers to be hidden are selectable by user
Spooling:
Uses mail spool, doesn't move to home directory
Can read mail via IMAP
Images:
Uses ...Images/People without uneccesary password file
Strips local domain when looking for Images/People files
Images in ...Images/People can be in any format you have an Image filter installed for
Composing:
Bcc:, Reply-To: headers available within Compose window
Compose window title reflects subject
Quote button built into the Compose window
Quoted text can be reformatted
Custom editable/static headers can be added
---
Return to FozzTexx Enterprises